KnowledgeNet
KnowledgeNet (KNet) est une plateforme innovante utilisée au sein des industries chimiques, de pétrole et gaz, d'électricité et des utilités pour renforcer la gestion des activités opérationnelles.  KNet aide les opérateurs, les superviseurs, les ingénieurs, et les directeurs d'usine à prendre des décisions rapides et efficaces afin de maximiser la production, la rentabilité et la sécurité. Combinant plusieurs technologies, KNet offre une solution flexible et unique qui assure le diagnostic et la prédiction des problèmes de Process, la gestion de la performance, la gestion des conditions anormales, la supervision des tâches, la gestion des modes de transition, l'automatisation des procédures, etc.
KnowledgeNet, votre expert en gestion des opérations!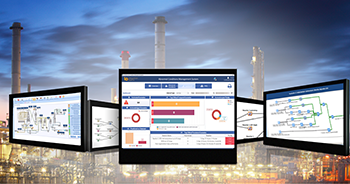 caractéristiques principales
Diagnostic et prédiction basés sur la technique de l'analyse des causes premières.
Plusieurs bibliothèques pré-définies pour la configuration des règles et des workflows.
Tableaux de bords intuitifs avec gestion des utilisateurs et analyse en profondeur.
Environnement de configuration graphique et intéractif.
Intégration des données et des systèmes suivant les standards industriels tels que OPC, ADO .Net, SOA, Modbus et WCF.
Deux langages de programmation orientés objet pour créer des solutions génériques et extensibles.
Possibilité de référencer et d'intégrer des librairies externes.
Les avantages clés
Renforcement de la visibilité et de la performance des activités opérationnelles.
Notification précoce des situations anormales avant d'affecter la qualité, la production et la sécurité.
Optimisation de la production et la productivité pour une meilleure rentabilité.
Maximisation de la disponibilité des actifs et de la sécurité.
Aide et conseil en temps réel afin d'institutionnaliser les bonnes pratiques.
Réduction significative du cycle de résolution d'un problème.
Intégration et synchronisation des systèmes.
Modules
KRules

Règles combinant les fonctions de logique, les séries temporelles et les calculs arithmétiques et statistiques, détection et prédiction des évènements complexes, gestion des KPIs, estimation des cibles/objectifs dynamiques.

KRCA

Aide à la décision, gestion des alarmes, diagnostic basé sur la technique d'analyse des causes premières, actions correctives alignées avec les bonnes pratiques.

KWorkflow

Collaboration, procédures automatiques, gestion des transitions (Démarrage et arrêt), suivi des tâches et synchronisation.

KMap

Tableaux de bords de performance, connectivité des objets, relations entre les objets
Interview
Video: Samy Achour, President and Founder of Integration Objects talks about KnowledgeNet at GMIS in Abu-Dhabi.
Solutions
Gestion intelligente des indicateurs clés de performance (KPIs)
Gestion intelligente de la performance energétique
Gestion des conditions anormales
Système d'aide à la prise de décision
Gestion intelligente des opérations du site LNG
Gestion intelligente des alarmes
Gestion intelligente du parc de stokage
Optimisation de la distribution des utilités
et beaucoup d'autres solutions!