OPC Server Simulators – Full Edition
Does this product meet your needs?
Simulez facilement des données et des alarmes avec OPC Server Simulators – Full edition sans interruption !
OPC Server Simulators – Full Edition sont des serveurs OPC, fournis par Integration Objects. Ces serveurs permettent aux utilisateurs finaux, développeurs et intégrateurs de conduire des tests avec des clients OPC.
Cette solution prête à l'emploi offre une simulation de données et messages en temps réel et de données historiques brutes et agrégées.
En particulier, les serveurs OPC incluent un simulateur avancé qui supporte les spécifications OPC DA et HDA et permet aux utilisateurs de :
Configurer leurs propres tags et personnaliser ainsi arborescence du serveur OPC,
Spécifier les données à simuler via des fichiers CSV,
Support des spécifications OPC DA et HDA.
Par conséquent, ce simulateur avancé est utile pour rejouer en temps réel un historique de données existant.
Interested by a free version of the simulators? Click here.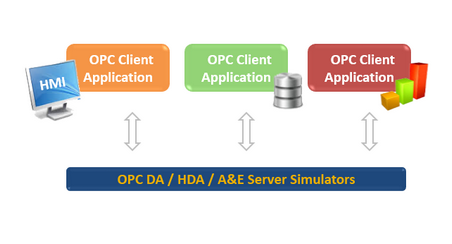 Caractéristiques du produit
Trois composants du serveur OPC : Simulateur Avancé, Serveur OPC DA HDA et serveur OPC A&E.
Fonctionnalités OPC DA :
Fonctionnalités OPC HDA :
Fonctionnalités OPC A&E :
Archivage d'un journal d'évènements.
Windows XP

Windows Seven

Windows Server 2003

Windows Server 2008

Windows Server 2012

Windows 10

Windows Server 2016
Compatibilité OPC
OPC Alarms and Events 1.02 & 1.10
OPC Historical Data Access 1.1 & 1.2
OPC Data Access 1.0a, 2.0 & 2.05
Ce produit répond-t-il à vos besoins?