Récupérez facilement les alarmes et les évènements OPC à l'aide de l'OPC AE Web Service!
Le suivi des alarmes et des évènements qui surviennent au cours des activités de l'usine est primordial pour le maintien du bon déroulement des opérations. OPC AE Web Service récupère ces alarmes et évènements à partir de serveurs OPC AE et les expose sur le réseau de l'entreprise via les services Web.
En utilisant OPC AE Web Service, aussi longtemps que vous aurez accès à Internet, vous serait capable de facilement récupérer les alarmes et les évènements à tout moment et n'importe où.
Cette fonction de suivi à distance vous permet de maîtriser d'éventuels problèmes même si vous êtes loin de votre bureau.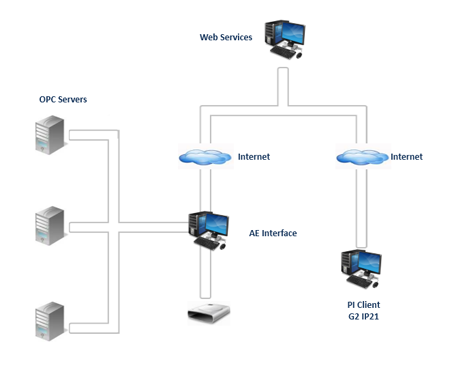 Caractéristiques du produit
Interface de configuration simple et intuitive.
Connexion simultanée à tous les serveurs OPC AE locaux ou distants disponibles.
Un accès sans faille aux serveurs OPC AE à travers les pare-feu sans les soucis de DCOM.
Exploration des sources d'évènements disponible sur tout serveur OPC AE.
Capacité de filtrage en utilisant plusieurs critères comme la sévérité, le nom de la source, le nom du domaine, le type d'évènement et la catégorie.
L'exposition d'alarmes et d'évènements via les services web pour un accès plus facile aux applications tierces et aux utilisateurs d'intranet.
Le suivi continu des attributs et des caractéristiques des alarmes.
Fonctionnalités de stockage et de transfert via les mises en mémoire tampon d'alarmes.
Reconnexion automatique aux serveurs OPC A&E lors de la perte de la connexion.
Possibilité d'installation en tant que services Windows.
Affichage et archivage d'un journal d'évènements.
Windows XP

Windows Seven

Windows Server 2003

Windows Server 2008
Compatibilité OPC
OPC Alarms and Events 1.10
OPC Alarms and Events 1.02
OPC Alarms and Events 1.00
Ce produit répond-t-il à vos besoins?