Looking for an OPC DA & OPC HDA client? OPC DA HDA Explorer is the right tool for you.
Integration Objects' OPC DA HDA Explorer is a plug-and-play software product. It includes an OPC DA and OPC HDA client tools, enabling you to monitor real-time and historical process data accumulated during daily plant activities. It also allows you to collect data and create/configure alarms for process data.
You can use this OPC Explorer to monitor your system status via its powerful event notification tool. This tool can send email notifications to plant supervisors (or who you choose) when critical events occur.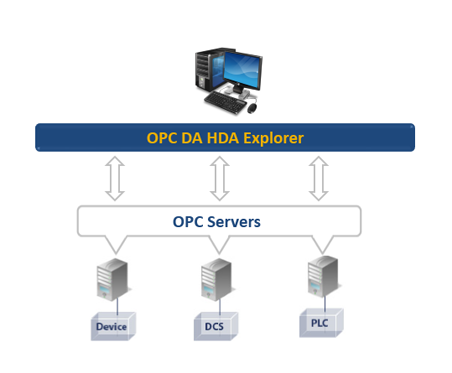 Product Features
A fully compliant OPC DA/HDA client
Easy and intuitive configuration user interface
OPC DA synchronous/asynchronous reads and writes
OPC HDA synchronous/asynchronous reads and updates with playbacks and annotations support
Trends analysis for OPC real-time and historical data
MDI (Multi-Document Interface) support for multi-connection handling and multi-data view capabilities
Automatic reconnection to OPC servers when the connection is lost
Mini SCADA capabilities : Build your process map and supervise your process data in a more meaningful and friendly environment
Alarm manager features for OPC real time and historical data
Windows service capabilities
OPC server redundancy
Log event display and archiving
Windows XP

Windows Seven

Windows Server 2003

Windows Server 2008

Windows 8

Windows Server 2012
OPC Compatibility
OPC Historical Data Access 1.20
OPC Historical Data Access 1.10
OPC Historical Data Access 1.00
OPC Data Access 3.00
OPC Data Access 2.05a
OPC Data Access 2.00
OPC Data Access 1.0a
Does this product meet your needs?