Assurez le suivi de vos données Cisco WLC avec l'OPC Driver for Cisco WLC
L'OPC Driver for Cisco WLC d'Integration Objects est un client OPC Classic Plug and Play.
Il permet de contrôler les informations recueillies par Cisco Wireless LAN Control (WLC) au sein de votre système de contrôle ou SCADA. Ce serveur OPC, collecte de manière sûre les données et informations des points d'accès sans fil provenant d'un Cisco WLC, à l'aide du protocole SSH. Ces données sont ensuite transférées en temps réel vers votre serveur OPC DA.
De plus, il vous est possible de configurer le mappage des données entre Cisco WLC et le Serveur OPC DA à travers une interface utilisateur intuitive.
OPC Driver for Cisco WLC s'exécute en arrière-plan en tant que service Windows afin d'assurer un suivi permanent.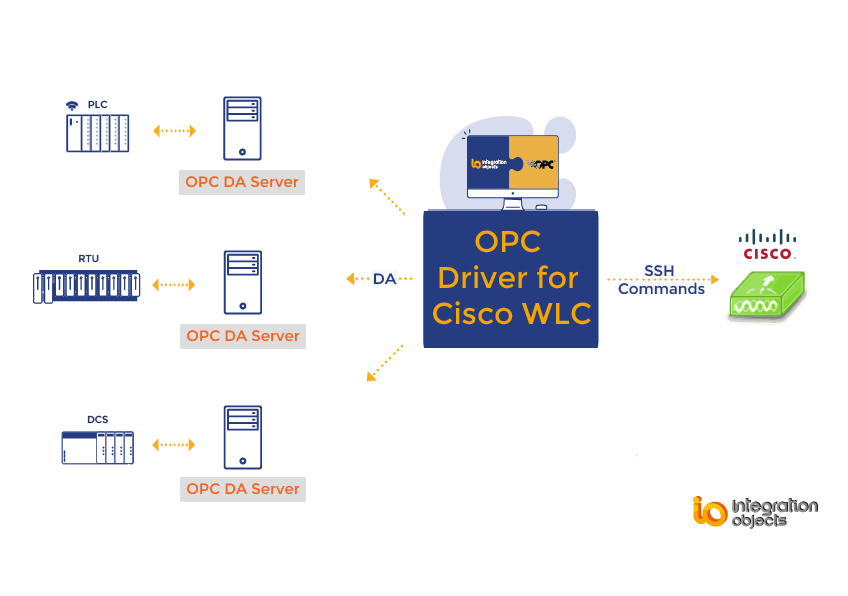 Caractéristiques du produit
Offre une interface de configuration graphique et intuitive
Configuration, démarrage et arrêt du service de publication à sens unique d'un WLC Cisco vers un Serveur OPC DA
Configuration d'un WLC comme source de données
Permet une connexion au serveur OPC DA local ou distant
Configuration d'un serveur OPC DA pour stockage de données
Mappage des données WLC vers des items OPC au sein du Serveur OPC DA avec la fonctionnalité drag and drop ou via import/export de fichiers CSV files
Communication avec un WLC Cisco via un protocole SSH
Transfert des données Cisco WLC vers le Serveur OPC DA en temps réel
Contrôle des communications avec le WLC Cisco et le Serveur OPC DA configurés
Reconnexion automatique aux WLC Cisco et Serveur OPC DA configurés, après défaillance
Exécution en arrière-plan en tant que service Windows
Traçabilité des opérations à l'aide de fichiers journaux texte
Windows 7

Windows 8

Windows 10

Windows Server 2008

Windows Server 2012

Windows Server 2016

Windows Server 2019
Compatibilité OPC
OPC Data Access 1.0a
OPC Data Access 2.00
OPC Data Access 2.05a
OPC Data Access 3.00
Ce produit répond-t-il à vos besoins?