Migrez vers OPC Unified Architecture avec OPC UA Proxy!
OPC UA Proxy est un composant de l'OPC UA Wrapper dédié à des fins de migration vers l'architecture OPC UA (Unified Architecture). Le proxy est un tunnel OPC UA permettant aux clients OPC de communiquer avec les serveurs OPC UA.
Ce produit agit comme une passerelle de haute performance entre les serveurs OPC UA connectés au réseau et les clients OPC. En effet, il supporte les spécifications OPC DA, OPC HDA et OPC A&E. C'est la solution adéquate pour assurer une interopérabilité robuste OPC Classique/OPC UA.
Le proxy facilitera vos efforts de migration vers OPC UA et par conséquent vers la technologie IIoT et Industrie 4.0.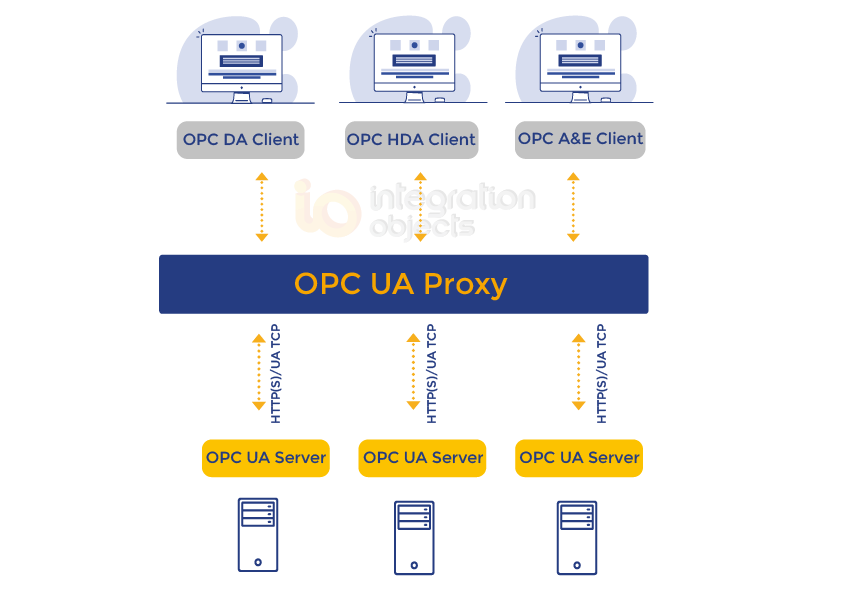 Caractéristiques du produit
Support de plusieurs services proxy opérant simultanément
Support de plusieurs serveurs OPC UA locaux et distants
Mappage de l'espace d'adresse d'un serveur OPC UA à un espace d'adresse d'un serveur OPC DA
Support des protocoles de transport UA TCP et HTTP
Support du protocole de transport HTTPS
Support des modes de sécurité None, Sign et Sign & Encrypt
Support des politiques de sécurité None, Basic128RSA15 et Basic 256
Support des modes d'authentification anonymes et nom d'utilisateur
Traçabilité et affichage des évènements
Configuration d'alias permettant de définir des noms de tags significatifs pour les nodeIds
Windows Server 2016

Windows Server 2012

Windows Server 2008

Windows 10

Windows 8

Windows Seven
Compatibilité OPC
OPC Unified Architecture 1.02
OPC Data Access 2.00
OPC Data Access 2.05
OPC Data Access 3.00
OPC Alarms and Events 1.00
OPC Alarms and Events 1.02
OPC Historical Data Access 1.10
OPC Historical Data Access 1.20
Ce produit répond-t-il à vos besoins?