Saudi Aramco Abqaiq Plants goes beyond Business Intelligence
Intelligent Dashboards Reap Millions in Energy Savings…
Overview
Saudi Aramco Abqaiq Plants is the company's biggest oil processing and crude stabilization facility. It is the main oil processing center for Arabian Extra Light and Arabian Light crude oils, with a capacity of more than 7 million bpd. It has three main processing operations: oil, NGL, and utilities.
Central to Saudi Aramco's ambitious transformation into the world's leading integrated energy and chemicals company is unlocking the potential of its workforce talent to not only maintain its global reputation as a safe, reliable, and environmentally friendly producer, but also as an energy efficient operator.
In this perspective, the Saudi Aramco Abqaiq Plants teamed up with Integration Objects to engineer and build a state-of-the-art solution that empowers users to:
Monitor the entire plant energy consumption from a site-wide perspective, down to the equipment level.
Automatically detect the plant state and operating modes, and adjust energy consumption targets accordingly and in real time.
Identify energy performance gaps early.
Isolate the root causes behind performance gaps using automatic root cause analysis and identification.
Take corrective actions while enforcing best practices.
As a result of the deployed application, Abqaiq Plants estimated a potential energy savings in excess of tens of millions of dollars per year.
Business Case
Historically, Abqaiq Plants, like many operating facilities, adopted a standard KPI management system that monitored energy consumption. Such standard systems performed basic KPI calculations against fixed targets.
Once a deviation was detected, the burden of finding the root cause was on the plant personnel, requiring lengthy and repetitive brainstorming meetings involving different experts and divisions to diagnose the issue. Intensive analysis of behavior patterns and dynamic process trends were required.
Using the conventional system, Abqaiq Plants faced the following challenges:
The need for increased accuracy and performance insight for better decisions.
False warnings about energy overconsumption, due to using fixed targets instead of dynamic ones, accounting for the dynamic behavior of plant processes characterized by different operating modes, products, feedstock and equipment availability.
The cycle time to identify the real root cause was too long while the performance gap was persisting.
The KPI calculations were not always accurate because of some instrument failures
The Implemented Solution
To overcome these challenges and accomplish the objective of eliminating energy consumption performance gaps, Saudi Aramco Abqaiq Plants selected Integration Objects' KnowledgeNet platform. Energy consumption is calculated and monitored for 24 production units, 57 non-production units and 237 pieces of critical equipment, representing the main energy consumers.
The system collects plant data from an OSIsoft PI historian and then uses computing, rules, fault propagation and workflow engines to reason over the data to identify the cause of the performance gaps, while empowering end users with recommended corrective actions.
The system keeps a history of all computed KPIs, root cause identification and recommended corrective actions in a database. The results are then published in web dashboards for user access.
The figure below illustrates an overview of the implemented solution: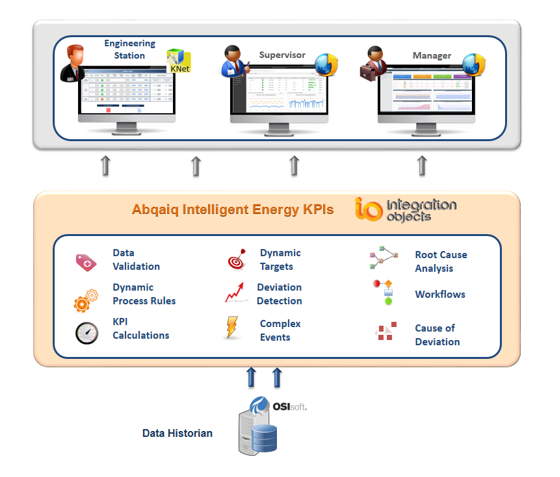 The application included:
Dynamic Targets for Reliable and Accurate Energy Consumption Warnings
A new paradigm was adopted to dynamically adjust the targets according to operating modes such as shallow and deep stabilization and the type of crude.
KNet Analytics was applied to develop accurate dynamic target models, extract plant knowledge and rules that detect operating modes, using three years of process data.
Automated Root Cause Analysis for Immediate Resolution
The values of energy KPIs are compared against their targets to automatically detect any energy overconsumption. When a performance gap is detected, the fault tree models are automatically executed to identify the unit and equipment responsible.
Beyond the equipment responsible, KnowledgeNet root cause analysis also pinpoints the specific abnormal condition that causes the energy overconsumption and advises about the appropriate corrective actions. Some examples of abnormal conditions are:
Reboiler fouling.
Low turbine/pump performance.
Unusually low de-superheated steam quality.
Low compression train efficiency.
Data Validation to Eliminate Erroneous Instrument Readings
The system provides tools to reach a high level of consistency and accuracy by verifying and validating key instrument readings using rules, calculations, temporal reasoning, and statistics. For instance, frozen sensors or sensors with excessive variance are automatically detected. Only good values are used as data entries for KPI calculations and root cause analysis.
An innovative approach was used to detect and warn about impending problems.
A combination of symptoms detection, cause and effect models to infer plant state, expert rules and advanced statistical models were applied to detect impeding problems with potential impact on the KPIs.
Online Visualization for Operations Performance Insights
Abqaiq energy KPIs and insights are published in modern web dashboards that allow stakeholders to visually monitor energy consumption, maintain awareness of any performance gaps, identify the root causes at first glance, and drill into details to help them investigate the situation productively.
The system monitors energy consumption cost and savings that the application is producing in real time.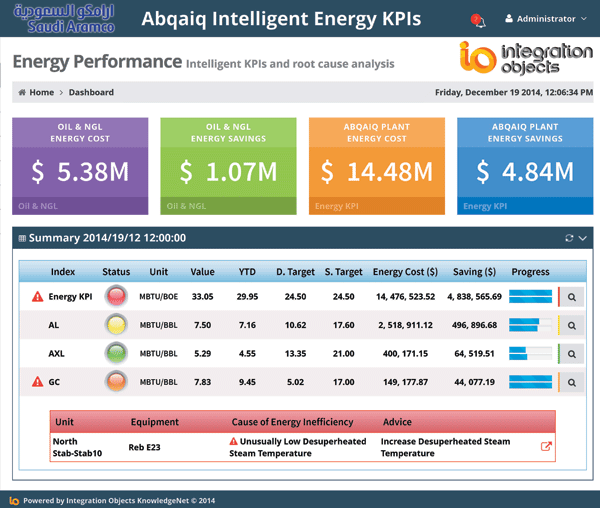 Keys to Success
One of the key elements to the success of building the application was the use of KNet Analytics to extract the knowledge from 3 years of historical data. The use of KNet allows the end user to build a custom root cause analysis algorithm suited to the nature of the process and operating modes. This is truly a very powerful and flexible feature as opposed to a fixed off-the-shelf application.
The implementation of the Abqaiq Intelligent Energy KPIs system has resulted in a significant energy consumption improvement and in a high return on investment.
The Results
Energy savings were estimated to be in the tens of millions of dollars.
Operators, engineers, and managers all found it easy to use the web-based interface to improve plant performance by better managing critical assets and their KPI impacts. The cycle time and effort to detect and diagnose energy consumption performance gaps was significantly reduced.
Dynamic targets that set the optimum modes and targets of operations.
Operations knowledge was better retained and deployed online.
About Saudi Aramco Abqaiq Plants
Saudi Aramco – Abqaiq Plants is the company's biggest oil processing and crude stabilization facility. It is the main oil processing center for Arabian Extra Light and Arabian Light crude oils, with a capacity of more than 7 million bpd.
Abqaiq oil facilities receive sour crude oil from gas-oil separation plants (GOSPs), process it into sweet crude oil, and then transport it to Ras Tanura and Jubail on the east coast, Yanbu' on the west coast, and to Bapco Refinery in Bahrain. The off gases from the spheroids and stabilizer columns that are part of the conversion process are then sent to Abqaiq NGL facilities for further processing.
About Integration Objects
Integration Objects is a world-leading systems integrator and solutions provider specializing in intelligent performance management, preventative detection of abnormal conditions, and automated root cause analysis. Integration Objects excels at optimizing customers' business and manufacturing processes to maximize plant safety, increase asset availability, and facilitate better resolution decision-making. Together with industry insight and a wide range of experience in over 30 countries, Integration Objects' team of engineers and domain experts are always available to create integral links between business and operational objectives to assist customers in reaching operational excellence.
Contact us