OPC Adapter for Microsoft StreamInsight
Bring real-time process data into StreamInsight using OPC Adapter for Microsoft StreamInsight!
OPC Adapter for Microsoft StreamInsight collects and monitors real-time and high frequency data and events from multiple control and automation systems. Therefore, end users can configure complex event processing applications, allowing them to:
Centralize high volume real-time data and events,
Process events across multiple data streams, detect correlations, and focus on key process conditions,
Aggregate events from multiple sources and perform highly complex analyses over time,
And gain continuous operations performance insight.
The OPC Adapter for StreamInsight includes OPC input and output adapters. In fact, these adapters can stream real-time process data to Microsoft StreamInsight using OPC.
"The OPC Adapter for Microsoft StreamInsight will help end users in manufacturing and process industries to finally be able to gather all data and events, deploy advanced analytics and performance management applications for operations improvement and at an affordable price." says Integration Objects' CEO, Samy Achour.
Moreover, Microsoft confirms StreamInsight's ability to handle up to 100,000 events per second for manufacturing process monitoring and control applications.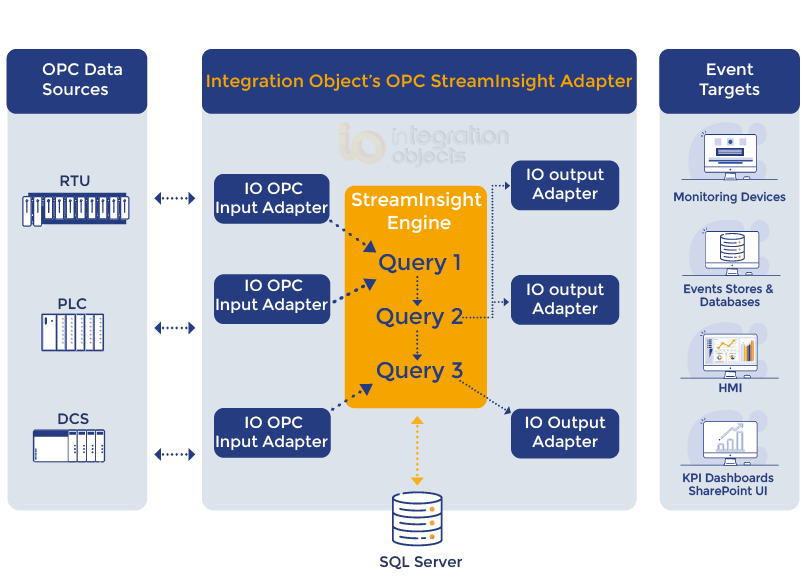 Product Features
Seamless integration to StreamInsight platform: The product includes both an OPC StreamInsight input adapter and a typical .NET output adapter, allowing you to build your CEP applications and integrate them easily to the StreamInsight platform. The input streams events from OPC Servers into StreamInsight and the output adapter handles events to a client application.
Reading real-time data from OPC DA Servers: The OPC input adapter allows application developers to collect real-time data from multiple OPC Servers and OPC items. The management of the OPC groups is completely transparent, reducing the number of objects that the developers have to handle. The input adapter also allows:
Ease of configuration: the input adapter is easy to configure by using a CSV configuration file where you can list the OPC Servers, OPC items and their settings. The sample included in the setup package has an intuitive graphical user interface that allows you to generate this CSV configuration file.
Automatic reconnection: The OPC input adapter manages multiple local and remote connections with OPC DA Servers. When a communication breaks or a connection is lost with an OPC DA Server, the OPC input adapter will automatically try to reconnect to this OPC Server and re-establish the communication.
Producing StreamInsight events: The OPC input adapter allows you to transform OPC real-time data to StreamInsight events and manage their consumption.
Helpful log capabilities.
Windows Seven ( x86 and x64)

Windows Server 2008 (x86 and x64)

Windows XP Service Pack 2 or later (x86 and x64)

Windows Server 2003 Service Pack 2 or later (x86 and x64)

Windows 8 (x86 and x64)

Windows Server 2012 ( x64)
OPC Compatibility
OPC Data Access 1.0a
OPC Data Access 2.05
Does this product meet your needs?
Spotlight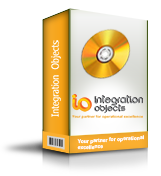 OPC DA Client Toolkit
Rapid Programming for OPC in C++ with the OPC DA Client Toolkit!
Integration Objects' OPC DA Client Toolkit is an OPC toolkit provided as a Windows API. It implements all [. . .]
Rapid development of OPC Clients using C++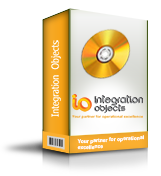 OPC Server Toolkit
Use C# or C++ to develop your OPC Servers with the OPC Server Toolkit !
Integration Objects' OPC Server Toolkit is an easy to use OPC library. It allows developers to [. . .]
Rapid development of OPC Servers