Use OPC Calculation Engine to easily implement and share calculations on OPC DA data!
Integration Objects' OPC Calculation Engine is a powerful OPC client that allows end users to quickly configure and run calculations based on OPC tag values. The OPC Calculation Engine collects real-time data from multiple OPC DA Servers available in the network and perform multi-threaded calculations.
Our compliant calculation software is powerful enough to perform robust calculations based on real-time data without putting your controls under stress. It reduces the complexity of calculations, offers an easy way to update your operations, and enables the user to write the calculations' results to any OPC server or save them in databases.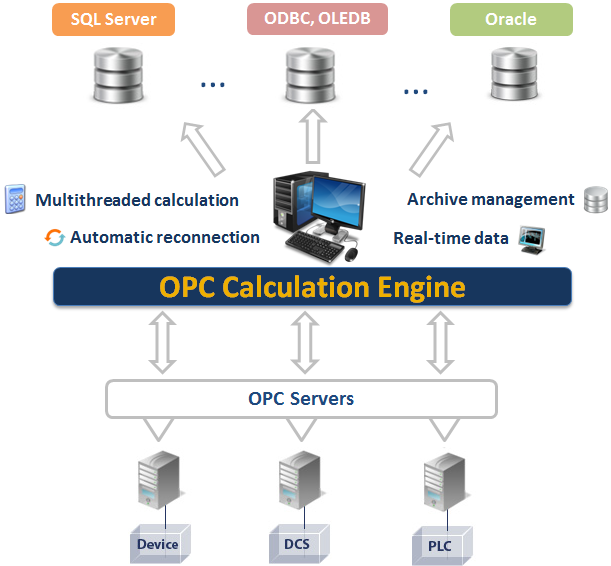 Product Features
A fully compliant OPC DA client
Browsing all local or remote OPC DA servers available within the network
Connection to one or more local and remote OPC DA servers at the same time
Browsing any OPC DA server address space
Synchronous and asynchronous data read and write requests
Real-time multi-threaded calculations
Write calculation results to any compliant OPC Server
Easy to use syntax editor with drag and drop capability to build calculations
Complete library of pre-defined calculation functions
Data transfer and archiving to any relational database
Continuous monitoring of the OPC and database servers' connection
Automatic reconnection to OPC servers when the connection is lost
Automatic reconnection to database servers when the connection is lost
Windows Service capability
Log event display
Windows Server 2003

Windows Server 2008

Windows Server 2012

Windows Seven

Windows 8

Windows 10
OPC Compatibility
OPC Data Access 1.0a
OPC Data Access 2.00
OPC Data Access 2.05a
OPC Data Access 3.00
Does this product meet your needs?