Easily monitor your Cisco WLC data using OPC Driver for Cisco WLC !
Integration Objects' OPC Driver for Cisco WLC is a plug and play OPC Classic client software. It allows users to monitor data retrieved from Cisco Wireless LAN Controller (WLC) within their control systems or SCADA. In fact, this driver collects data and information about  wireless access points from a Cisco WLC in a secure way using SSH protocol. Data is then transferred in real-time to your OPC DA Server.
Users can configure the data mapping between Cisco WLC and the OPC DA Server using an intuitive and graphical user interface.
Moreover, the OPC Driver for Cisco WLC runs as a Windows service in the background to ensure continuous monitoring.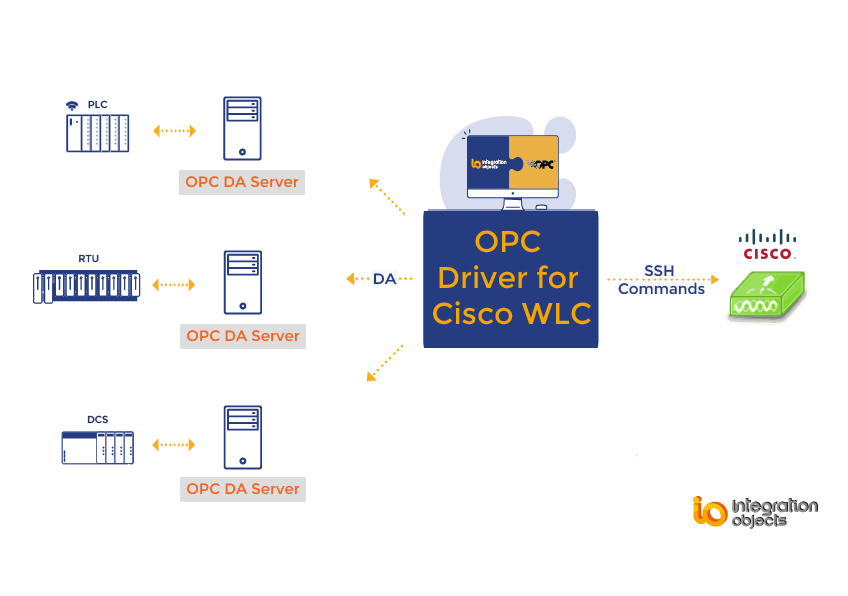 Product Features
Provide an intuitive graphical user interface for configuration purposes
Configure, start and stop unidirectional publish service from a Cisco WLC to an OPC DA Server
Configure a WLC as a data source
Support connection to local and remote OPC DA server
Configure an OPC DA Server as a data destination
Map WLC data to OPC items in the OPC DA Server via drag and drop or CSV files import/export
Communicate with Cisco WLC via SSH
Transfer of Cisco WLC data to OPC DA Server in real-time
Monitor the communications with the configured Cisco WLC and OPC DA Server
Automatically reconnect to the configured Cisco WLC and OPC DA Server after communication glitches
Run as a Windows Service in the background
Trace operations in text based log files
Windows 7

Windows 8

Windows 10

Windows Server 2008

Windows Server 2012

Windows Server 2016

Windows Server 2019
OPC Compatibility
OPC Data Access 1.0a
OPC Data Access 2.00
OPC Data Access 2.05a
OPC Data Access 3.00
Does this product meet your needs?