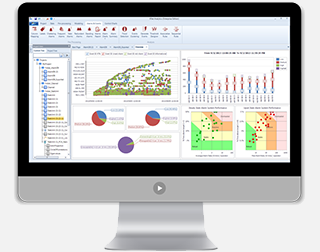 KNet Analytics Latest Release:
Go Beyond Classic Alarm Management
Tired of not getting real insights from your alarm system? Our latest alarm analytics module will help you cut down alarm fatigue, reduce alarm floods and be compliant with ISA 18.2 standard.
Integration Objects is pleased to announce the release of its KNet Analytics latest version.
This version offers an innovative alarm analytics module that allows to:
Apply advanced algorithms to uncover the knowledge hidden in your alarm data

Audit the performance of the alarm system and pinpoint nuisance alarms such as frequent, chattering, stale and standing alarms

Perform alarm correlation and clustering to remove redundant alarms and reduce alarm floods

Use pattern recognition tools such as sequence mining and association rules to predict the future behavior of alarms for increased safety and reliability

Correlate alarm data and process data for a better troubleshooting and root cause analysis
---
OPC UA Wrapper Tutorial Video

Looking how to support OPC UA? Check out the latest OPC UA Wrapper tutorial video and discover how you can easily set up and OPC UA interface for your classic OPC servers.

Exchanging Control System Data Securely

Integration Objects has designed an OPC based secure DMZ solution to exchange critical data with third parties while complying with the ISA 99 security standards and the different stakeholders' policies.

Join IO Business Partners Network

Integration Objects is looking at recruiting few good system integrators partners to team up with and deliver true value to its customer base.

>> Watch Demo Video

>> Download Success Story

>> Register Now
---
Integration Objects is a world-leading systems integrator and advanced solutions provider for process automation, command and control centers, operational intelligence, industrial internet of things IIoT, cyber security, Big Data Analytics for enterprises, process, power and utilities industries, defense and governmental institutions.
Copyright © 2017 Integration Objects