OPC Data Transfer between OPC servers made easy!
Eagerly searching for a way to exchange data between your various control systems? Tired of unexpectedly losing data when communication glitches occur? Your problems are solved with Integration Objects' plug-and-play solution, the OPC Data Transfer, that allows you to easily configure, display, and monitor real-time data transfers from any OPC source server to any OPC destination server, thus providing full integration for all of your processes. This secure OPC data transfer solution provides extensive error tracking and management tools so you can identify and stop minor problems before they expand.
In order to avoid losing any data if your connection is interrupted, you may also use the OPC Data Transfer to configure OPC server redundancy which allows you to specify, for any master OPC server, more than one backup using three different redundancy modes. When the master fails, the OPC Data Transfer automatically switches to the backup server and a notification e-mail will be sent to the operator. When the master goes up again, the OPC Data Transfer automatically switches from the backup to the master.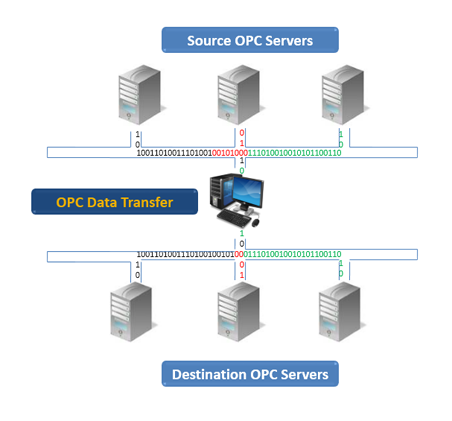 Product Features
A fully compliant OPC DA Client.
An easy and sophisticated configuration interface which uses a drag & drop mechanism, enabling you to quickly configure your data transfer operation
OPC Data Transfer capabilities.
Import/Export Data Transfer Configuration to Excel files
OPC server redundancy available for source and destination servers.
OPC Client Redundancy: OPC Data Transfer allows you to configure a primary OPC Data Transfer and a backup OPC Data Transfer.
Automatic reconnection.
Windows Service capabilities.
Log event display and archiving.
Windows 2000 (SP4)

Windows XP (SP1 & SP2)

Windows 2003 Server (SP1)

Windows Seven

Windows Server 2008

Windows Server 2012
OPC Compatibility
OPC Data Access 2.05a
OPC Data Access 2.00
OPC Data Access 1.0a
Does this product meet your needs?