View Tutorial Video on How to Configure OPC UA to OPC DA Proxy
Migrate to OPC Unified Architecture now with OPC UA Proxy!
Integration Objects' OPC UA Proxy is OPC UA Wrapper's component for bridging OPC UA to classic OPC. The OPC UA Proxy is a plug and play solution that enables OPC OPC Data Access, OPC Historical Data Access and OPC Alarms & Events clients to communicate with OPC UA (Unified Architecture) servers. This OPC UA based product acts as a high performance OPC UA tunneller between OPC UA servers connected to the network and any OPC classic client applications.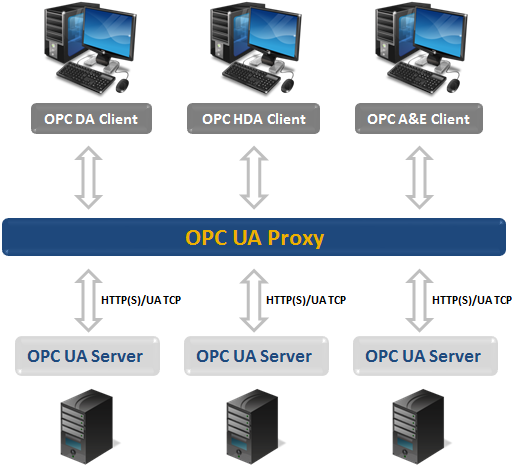 Product Features
Support of multiple proxy services running at the same time
Support of multiple local and remote OPC UA servers
Map any OPC UA server address space to an OPC server address space
Support of UA TCP and HTTP transport protocols
Support of HTTPS transport protocol
Support of None, Sign and Sign & Encrypt security modes
Support of None, Basic128RSA15 and Basic 256 security policies
Support of Anonymous and User Name user authentication modes
Log event display
Windows Server 2016

Windows Server 2012

Windows Server 2008

Windows 10

Windows 8

Windows Seven
OPC Compatibility
OPC Unified Architecture 1.02
OPC Data Access 2.00
OPC Data Access 2.05
OPC Data Access 3.00
Does this product meet your needs?