Does this product meet your needs?
Utiliser C# .Net ou C++ pour développer vos serveurs alarmes & évènements OPC avec l'OPC AE Server Toolkit !
OPC AE Server Toolkit d'Integration Objects est une DLL (Dynamic Link Library) Windows qui permet aux développeurs de créer facilement des serveurs alarmes & évènements OPC AE. Cette API implémente toutes les interfaces obligatoires d'OPC AE et la plupart des interfaces optionnelles de cette spécification. Cette boîte à outil prend en charge aussi tous les détails COM/DCOM et OPC AE requis afin d'interfacer avec les clients OPC AE afin de vous fournir une interface facile et flexible pour le développement d'applications serveur AE.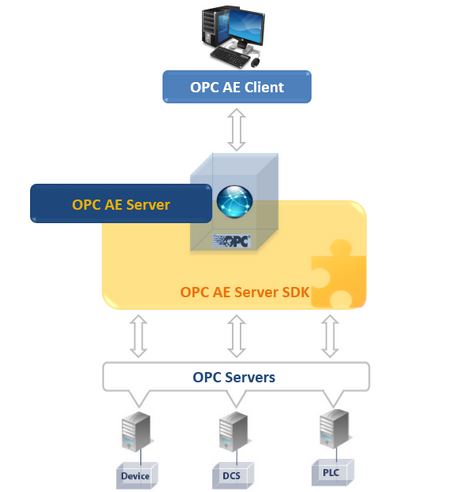 Caractéristiques du produit
Conforme aux spécifications les plus récentes concernant les alarmes et les évènements, version 1.10.
Capable d'ajouter / supprimer des entrées COM de serveurs OPC dans la base de registre Windows.
Implémente les interfaces OPC AE pour:
Support de tous les types d'évènement (simple, suivi, condition).
Support de tous les critères de filtration (filtration par type d'évènement, catégorie, sévérité, source et domaine).
Offre une interface de communication efficace pour échanger des données avec les applications personnalisées du fournisseur en utilisant les mécanismes de rappel (callback).
Vous permet de créer des applications serveurs OPC A&E en utilisant VB6 et Visual Studio C++ 6. Des exemples de codes en .Net, MFC et VB6 sont fournis pour vous guider dans les principales étapes de développement à travers les principales étapes de développement.
Windows XP

Windows Seven

Windows Server 2003

Windows Server 2008
Compatibilité OPC
OPC Alarms and Events 1.10
OPC Alarms and Events 1.02
Ce produit répond-t-il à vos besoins?