OPC Client for Microsoft SQL Server
Archive your OPC data into a SQL database using the OPC Client for Microsoft SQL Server
Integration Objects' OPC Client for Microsoft SQL Server is an easy to use OPC client archiver. It allows you to perform a bi-directional data transfer between one or more OPC DA servers connected to your network and any SQL Server database available within the same network.
Using the OPC Client for Microsoft SQL Server, you will have a complete historical record of your plant data with a few clicks. The archived data can be used for trend analysis and reporting. It can provide you with valuable insights about your plant's operational deviations. This information enables you to make informed decisions so that you can improve your plant performance.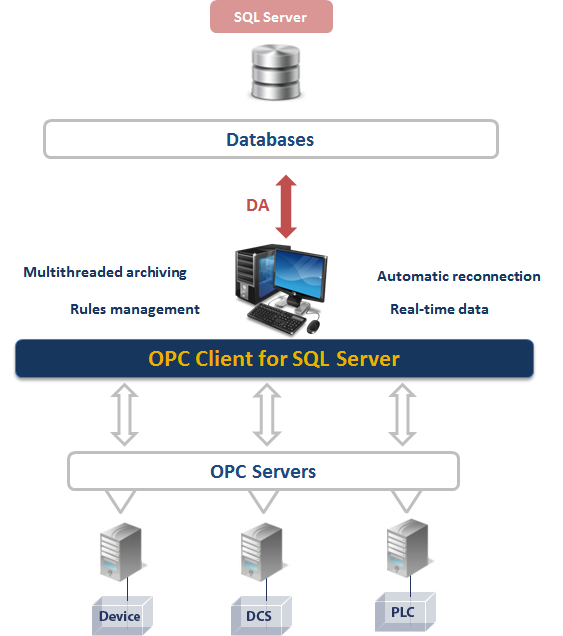 Product Features
Fully compliant OPC DA client
Connection to one or more local or remote OPC DA servers at the same time
Browsing of the entire address space for any OPC DA server
Monitoring of OPC item changes (value, quality, and timestamp) over time
OPC DA synchronous and asynchronous read and write requests
Bi-directional data transfer between OPC DA servers and SQL Server databases
Automatic reconnection to OPC Servers when the connection is lost
Alerts and rules configuration : using the OPC Client for SQL, you can configure a list of critical tags to supervise by setting rules and planning actions to be automatically undertaken when these rules become valid
Windows service capabilities
Log event display and archiving
Windows XP

Windows Seven

Windows Server 2003

Windows Server 2008

Windows 8

Windows Server 2012

Windows 10

Windows Server 2016
OPC Compatibility
OPC Data Access 2.05a
OPC Data Access 2.00
OPC Data Access 1.0a
Does this product meet your needs?