Use OPC Server Enterprise to access your historian data through OPC DA & HDA!
Integration Objects' OPC Server Enterprise is a PC-based software application that is designed to provide your OPC DA and HDA Clients with full access to both real-time and archived data collected by the supported database systems. Using ADO (Active Data Objects) technology, your OPC Clients will be able to read and update data from/to the following ADO compliant databases such as Oracle, Microsoft SQL Server, Wonderware Historian and Microsoft Access.
With this level of connectivity, you can have all of your real-time and historical process data at your fingertips and ready to be processed and analyzed.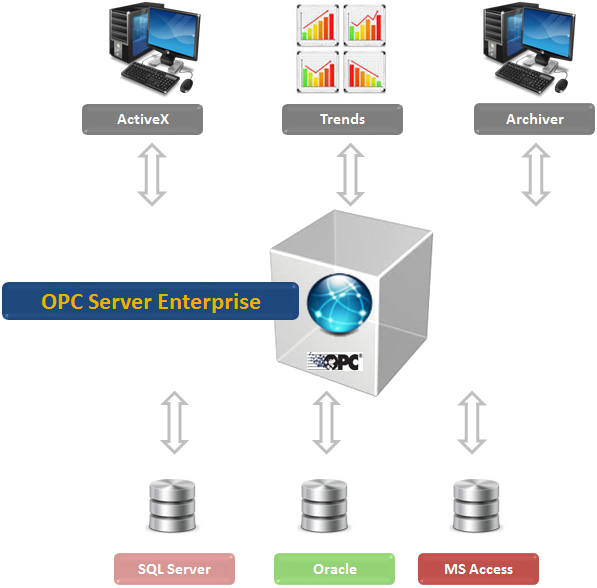 Product Features
Multiple simultaneous connections to diverse databases via ADO.
Sophisticated graphical user interface, simple and easy to use for server/database configuration
Full access to real-time data for any OPC DA Client
OPC DA synchronous/asynchronous read and write
Full access to historical data for any OPC HDA Client.
Compliant with OPC HDA Clients requesting synchronous and asynchronous reads for:
Compliant with OPC HDA Clients requesting synchronous and asynchronous updates to:
Windows Service capability
Log event display and archiving
Windows XP SP2

Windows Seven

Windows Server 2003 SP1

Windows Server 2008

Windows Server 2012

Windows 8

Windows 10

Windows Server 2016
OPC Compatibility
OPC Historical Data Access 1.20
OPC Historical Data Access 1.10
OPC Historical Data Access 1.00
OPC Data Access 3.00
OPC Data Access 2.05a
OPC Data Access 2.00
OPC Data Access 1.0a
Does this product meet your needs?