Use OPC Client for Oracle to collect and archive real-time OPC data into Oracle databases!
Integration Objects' OPC Client for Oracle has two main functions. First, it acts as an OPC DA explorer by offering a graphical user interface to monitor the real-time data collected from connected OPC DA servers. Second, it provides high performance features to store real-time data into Oracle databases.
This OPC archiver makes your historical data easily available and at your disposal for further analysis and processing needs. Moreover, it does not require expertise in relational databases for users to set up their OPC historian.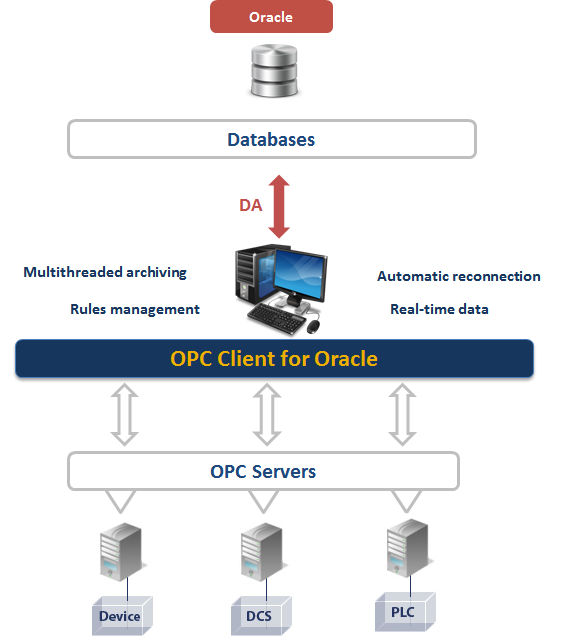 Product Features
Fully compliant OPC DA client
Simultaneous connections to one or more, local or remote OPC DA servers
Browsing of the address space for any OPC DA server
Monitoring of OPC item changes (value, quality, and timestamp) over time
OPC DA synchronous and asynchronous data read and write requests
Bi-directional data transfers between OPC DA servers and Oracle databases
Control of the OPC DA and database servers' connections
The OPC Client for Oracle provides a tool to control the historian database content (the read operations achieved by the client) and to set the data to be written to a connected OPC DA server (write operations)
Monitoring of critical tags by setting rules and defining related informative or corrective actions
Automatic reconnection to databases' servers when the connection is lost
Windows service capabilities
Log event display and archiving
Windows XP

Windows Seven

Windows Server 2003

Windows Server 2008

Windows 8

Windows Server 2012

Windows 10

Windows Server 2016
OPC Compatibility
OPC Data Access 2.05a
OPC Data Access 2.00
OPC Data Access 1.0a
Does this product meet your needs?