Deploy the OPC Server for SNMP to monitor SNMP devices via OPC!
OPC Server for SNMP offers a full monitoring of SNMP* enabled devices from OPC client applications such as Historians, HMI, SCADA or distributed control systems. These devices can include workstations, servers, switches, Uninterrupted Power Supply systems (UPS), PLC, routers, etc.
In fact, you can configure your devices and monitor their availability, status, performance, traffic and other parameters within few easy steps. The OPC Server for SNMP empowers end users to:
Proactively monitor control and enterprise networks in order to prevent problems from happening
Raise notifications based on detected issues and the status of critical network and automation assets
Reduce downtime and problems troubleshooting effort
Moreover, the SNMP OPC Server can also receive trap messages from manageable devices. This reduces the network traffic between the SNMP agents and the server.
This OPC Server is the bridge that you have been looking for to establish a reliable OPC link between operational technology (OT) and information technology (IT). It supports SNMP integration with controllers and devices from a wide variety of manufacturers.
*Simple Network Management Protocol (SNMP) is a popular Internet standard protocol for network management and exchanging information between network devices.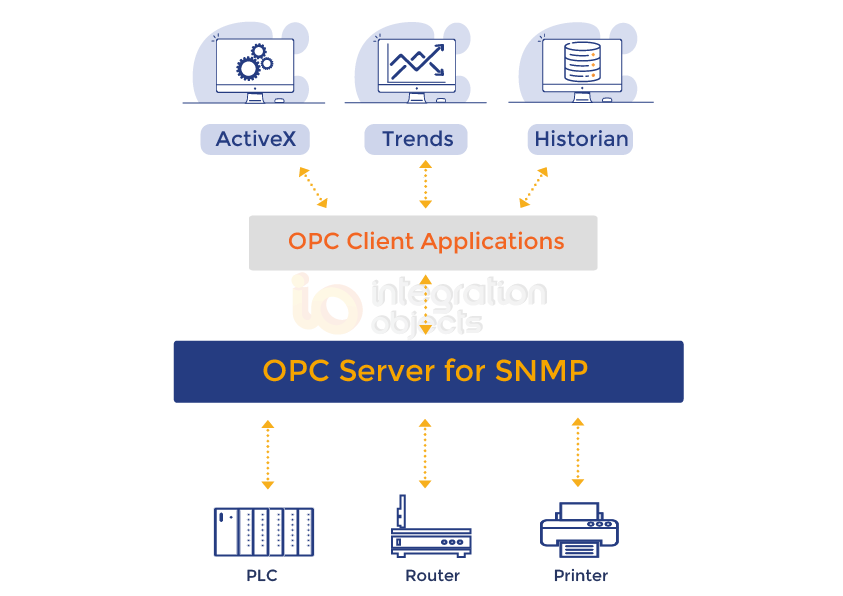 Product Features
Monitoring of an unlimited number of devices from different vendors using the SNMP protocol
Support of SNMP version 1, version 2c and version 3
Discovering of SNMP or non-SNMP enabled devices within a provided IP range using both SNMP and ICMP protocols
Capturing alerts messages via SNMP traps
Import of MIB files using XML format
Easy configuration of the devices to be monitored (graphical configuration tool, duplicate multiple devices, create tags offline, etc.)
Support of multiple OPC DA client connections
Events traceability using log files and messages viewer
Windows service capability allowing automatic restart after the restart of the host machine
Windows Server 2019

Windows Server 2016

Windows Server 2012

Windows Server 2008

Windows Server 2003 SP2

Windows 10

Windows 8

Windows Seven

Windows XP SP3
OPC Compatibility
OPC Data Access 3.0
OPC Data Access 2.05a
OPC Data Access 2.00
OPC Data Access 1.0a
Does this product meet your needs?