Secure OPC DA remote communications without DCOM
Searching for an easy and secure solution for classic OPC and DCOM? Tired of OPC DCOM issues complicating your efforts to connect your OPC systems? Integration Objects' OPCNet Broker DA ensures fast' reliable, and secure OPC remote communications by overcoming DCOM bottlenecks.
This OPC tunneling solution provides users with a robust and secure way to enable networked computers to access real-time data. It eliminates the usual frustrations as well as security vulnerabilities involved with DCOM configuration.
Data encryption and user authentication for a secure OPC DA communication
OPCNet Broker provides several and flexible options to configure data encryption and user authentication, in order to provide end users with the right tools to secure their OPC DA data.
OPC DA data transfer features
OPCNet Broker DA has configurable communication timeouts, data buffering and data compression features. Thus, it allows users to set up architecture schemes meeting their requirements.
Easy firewall integration enabling secure OPC DA communication
OPCNet Broker DA's tunneling technology makes it easy to configure firewalls in industrial networks in order to enable the secure OPC DA data flow to reach its destination. In fact, only one single TCP port is required to be open on the firewalls that are located between the OPC DA client and the OPC DA server.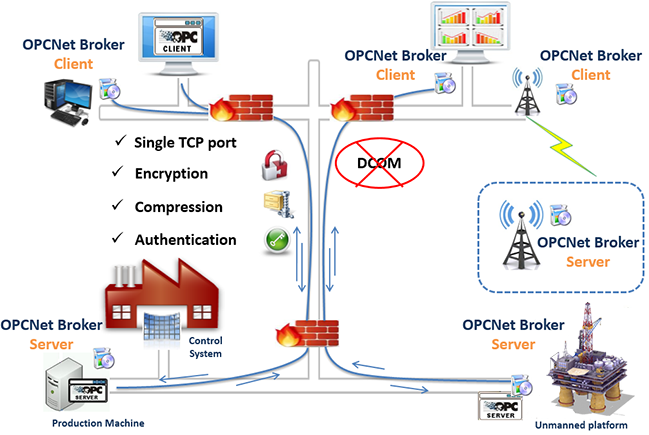 Product Features
OPCNet Broker DA is an easy-to-deploy and maintainable solution that allows you to:

Track client/server communications and limit the number of open ports within your firewalls to minimize security holes.
Configure your communication schema with less complexity.
Connect OPC components from different domains to fully integrate your data and processes.

OPCNet Broker DA provides significant benefits including:

Navigation through NAT' firewalls and proxies without the hassle of DCOM configuration issues.
Configurable call timeout so you can restart activities more quickly than with the mandatory 6 minute call timeout used with DCOM.
Data transmission in a secure mode:
Compression reduces the costs and strains on your network during data transfers.
Automatic reconnection if the connection is interrupted due to a network glitch.
Data recovery after communication glitches.
New feature: Easy management of OPC servers redundancy (active-active).New
Windows Seven

Windows Server 2008

Windows 2000 (SP4)

Windows XP

Windows Server 2003

Windows 8

Windows Server 2012

Windows 10

Windows Server 2016
OPC Compatibility
OPC Data Access 2.05a (OPC Foundation Compliance Tested)
Does this product meet your needs?
Spotlight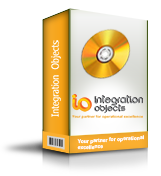 File Tunneller
Deploy File Tunneller to secure file transfer within your control network!
What if you could share your files easily and without compromising any security rules? File Tunneller makes it possible [. . .]
Secure file transfer with your control network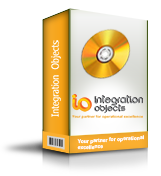 OPC Data Bridge
Use OPC Data Bridge to easily transfer real-time data between your OPC Servers!
Integration Objects' OPC Data Bridge is a plug and play OPC client allowing you to easily [. . .]
Quickly and simply exchange OPC data between multiple control systems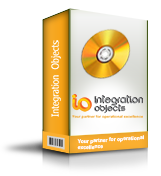 OPCNet Broker DA HDA AE
No more DCOM configuration issues with OPCNet Broker DA HDA AE!
Tired of DCOM complicating your setup efforts? Or searching for an easy and secure solution for classic OPC and [. . .]
Try the latest version of OPCNet Broker DA HDA AE and discover how you can secure your OPC data now!