Refinery Expert
Refinery Expert – Next generation of advanced solutions to leverage your operational performance
Refinery Expert is an advanced solution designed to be deployed in the different refinery units or plants. The objective of refinery expert solutions is to:
Help operations maximize their performance
Address abnormal conditions in the most efficient way
Dramatically decrease operating costs
Increase assets reliability and availability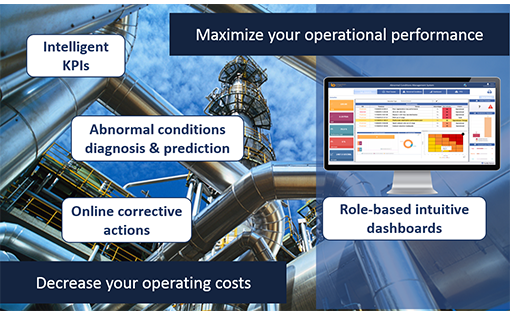 Refinery Expert is a turn-key solution that includes:
Intelligent Performance Management: It combines KPIs calculation, intuitive graphical visualization, dynamic targeting, deviation detection, and automated gap diagnosis. The refinery expert's KPIs include leading and lagging KPIs that are tracked online to early detect performance deviations and to timely alert end users about the root cause behind the deviation and the action that should be taken to drive the process back to its normal operating mode.
Abnormal Conditions Management: It focuses on the detection and prediction of the most critical complex events that may appear when operating the unit / plant. Abnormal conditions can vary in severity and consequences from off-spec product to catastrophic failure of equipment or unplanned plant shutdown. It combines the latest technologies in terms of rule based reasoning with advanced analytics algorithms applied on the unit historical data to come up with pertinent and accurate detection and prediction rules for the unit disruptions.
Key Benefits
Exploit plant's operations closer to their real potential
Focus on the key information during hazardous situations
Take advantage of online advisory to resolve issues and minimize human errors
Maximize units' uptime and avoid unplanned shutdowns
Uncover optimization opportunities
Refinery Expert Advanced Solutions
Crude Distillation Unit (CDU)
Vacuum Distillation Unit (VDU)
Delayed Coking Unit
Alkylation Unit
Naphtha Hydro Treating Unit (NHT)
Hydrocracking Unit (HCU)
Fluid Catalytic Cracking Unit (FCC)
Continuous Catalytic Reforming Unit (CCR)
Acid Gas Removal Unit (AGR)
Sulfur Recovery Unit (SRU)
Isomerization Unit
Hydrogen Production Unit