Are you looking for a way to monitor and boost operations performance? Our OPC Easy Archiver empowers you with informed decisions.
As a data archiving software designed for collecting, logging, and storing real-time industrial data from OPC servers, OPC Easy Archiver allows you to capture and store process data in various formats, such as Microsoft SQL Server, Azure SQL, Oracle, MySQL, Microsoft Access, PostgreSQL and CSV files.
OPC Easy Archiver collects real-time and historical industrial data as well as OPC alarms and events from multiple OPC DA/HDA/AE Servers, allowing you to capture and store critical events and alarms generated by OPC servers.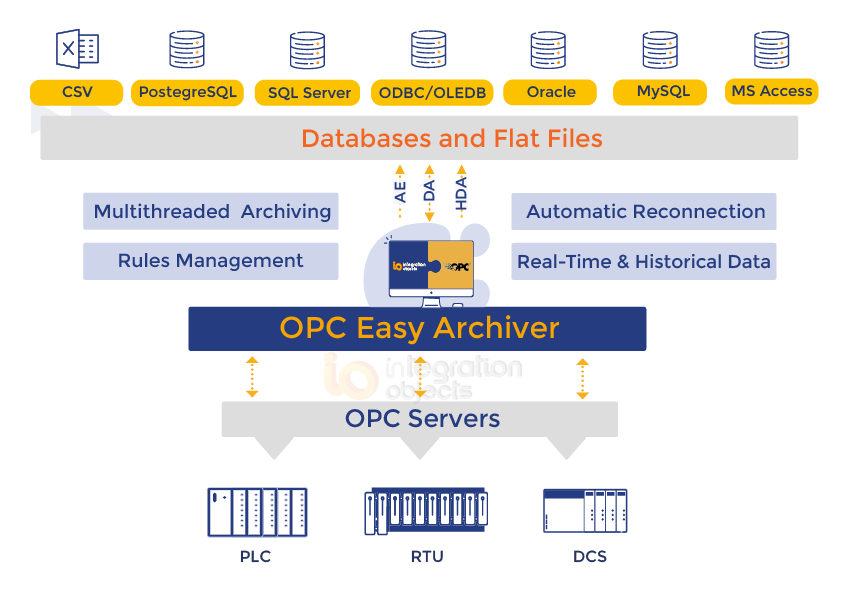 Some of its notable features include:
Support of different OPC standards: OPC Easy archiver is compatible with different OPC standards, such as OPC DA, OPC AE, and OPC HDA, ensuring that you can collect and archive data from various sources.
User-friendly interface: the software offers user-friendly interface, thus simplifying the configuration and management of data archiving tasks.
Integration with other software: OPC Easy archiver can integrate with OPC Servers and OPC clients allowing you to build a comprehensive automation solution.
Data Historization from OPC DA/HDA/AE servers to standard databases such as MS SQL Server Oracle, PostgreSQL, MySQL or CSV files.
OPC Alarms and Events notifications, visualization, filters, vendor specific event attributes, and acknowledgement.
OPC Data buffering upon communication loss with the databases and data recovery after successful reconnection.
Overall, OPC Easy Archiver is a reliable and comprehensive industrial data archiving solution that proved to be useful for different industrial applications.