Download OPC AE Archiver to collect and store OPC alarms and events into databases!
OPC AE Archiver is the OPC AE feature component OPC Easy Archiver. It collects OPC alarms and events messages in real-time and historizes them into standard databases. This OPC data collector can monitor alarms and events from multiple OPC AE servers. It supports relational databases such as Oracle, MySQL, PostgreSQL, Microsoft SQL Server and Microsoft Access. Moreover, you can store your OPC alarms into CSV files.
OPC AE Archiver enables filtering on alarms and events, using criteria such as event type, category, areas, sources, and severity.
Using this OPC AE historian, you will have a complete historical record of your plant events and alarms thus empowering you with a sequence of events. Consequently, it gives users a broader perspective of their plant activities which can improve the plant performance.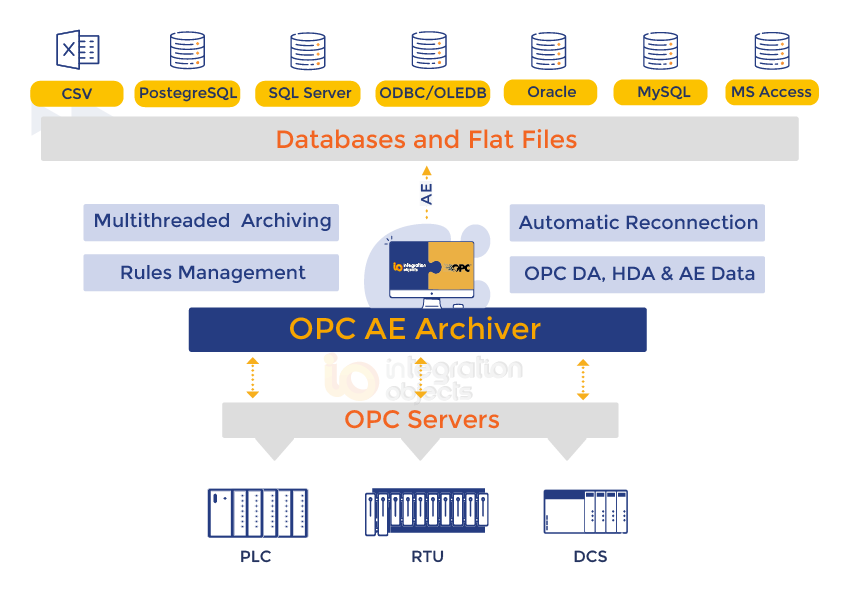 Product Features
A fully compliant OPC AE Client software
OPC Alarms and Events notifications, visualization, grouping, sub-grouping, and acknowledgement
OPC alarms and events archiving in CSV files, or ODBC or ADO-compliant databases
Sophisticated graphical user interface that is simple and easy to use
Automatic reconnection to OPC servers when the connection is lost
Automatic reconnection to database servers when the connection is lost
Store and Forward capability allowing local data buffering upon communication loss with the databases and data recovery after successful reconnection
Windows service capabilities guaranteeing automatic restart when the host machine is restarted
Log event display
Windows Server 2008

Windows 7

Windows Server 2003 SP2

Windows 8

Windows Server 2012

Windows 10

Windows Server 2016

Windows XP SP3

Windows Server 2008 R2

Windows Server 2012 R2

Windows Server 2019
OPC Compatibility
OPC Alarms and Events 1.10
OPC Alarms and Events 1.02
OPC Alarms and Events 1.01
OPC Alarms and Events 1.00
Does this product meet your needs?